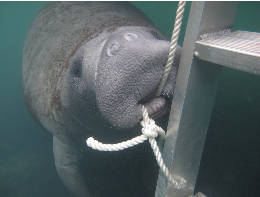 Manatee Mania Snorkel with manatees tour is for those who want more time, without the high cost, to spend witht the manatees! This is our newest tour which offers 4 hours of manatee time.
$75.00 per person 4 Hours
Get back to nature and discover the home of the "Manatee Capital of the World", Homosassa Springs, Florida!
This tour is longer than our most popular VIP Tour, and shorter than our all day private tour, it's just right!
Learn about the rules of interacting with the anazing manatees, how to behave in the water and around these gentle giants. We will teach you about passive interaction and observation, which will ensure you and yours have the best time possible.
Journey with our USCG certified captains, enjoy the boat ride to the springs on one of comfortable pontoon boats, and marvel at the wildlife you could see, like dolphin, bald eagle, otters, and many bird species, as well as, of course the manatees.
After the tour, we will take you back to our docki area, at Homosassa Springs Riverside Resort, where you can dine al fresco at the Monkey Bar, or Restaurant on the water. Not only can you get a great meal, you can also watch the MONKEYS frolic and play on Monkey Island!
What to Bring: Winter
Towels and Swimsuits
Sweatpants and Shirts
Socks and Shoes
What to Bring: Summer
Towels and Swimsuits
Cover from the sun
Food and Drink if desired
Tour Includes:
Snorkel Gear (No fins allowed)
Wetsuits
Reef Safe Sunscreen and No-Fog Spray
Ice Water or Hot Drinks (cocoa, coffee, tea)
Blankets during cold weather
Expectations:
Understand that this is a wildlife encounter, and we cannot guarantee what you will see or any interaction you may have.
During warm weather, manatees tend to move around in the springs, and rivers, and into the Gulf of Mexico. Homosassa does have a resident population of manatees, and we are the only company that offers manatee tours all year. However, occasionally, the manatees decide not to show themselves, as there are fewer of them than in the colder months. This is why we offer a Rain Check Guarantee, as we want all of our guests to enjoy, learn about and fall in love with the "Hippies of the Sea"!!
During colder months, manatees will migrate into warm water areas, such as the Homosassa Springs, in large numbers. You can expect to see many more manatees when the air is cold, as the manatees need the warm water to survive. Keep in mind that the manatees are not here for our entertainment, but they are gracious enough to let us enjoy them on an up close and personal manner.
What People are Saying:
Gabi from St. Paul says;
"Wow what a great way to spend the day! The manatees are incredible, we checked this tour off of our bucket list, and decided to see the dolphins too! Top notch company and tours, we will be back"