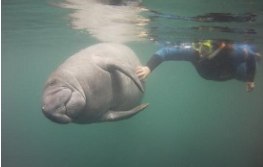 Our VIP, 3-3.5 hour swim with mantaees tours run every day at 8:00 am and 11:30 am, and seasonally at 3:00 pm. The cost is $65 pp, including wetsuits, snorkeling gear, hot or cold drinks, and blankets as needed.
We choose to take small groups only, of no more than 6 people, ensuring all questions are heard and answered, our passengers are more comfortable, and of course, the manatees and comfortable and happy too!
We will teach you everything you need to know, there are no age restrictions, every person is different, everyone does what they are comfortable with.
Join us in Homosassa, Florida, in Citrus County, minutes from Crystal River, the hub of all manatee tours. We choose to run our tours in Homosassa, where there are less people, less stress on the manatees, where our customers will be more comfortable.
We have professional, educated, fun and caring, USCG Certified Captains, our boats are clean and maintained, and we all love what we do, we promise to do iur best to ensure all of our customers are well taken care of.
We also offer a Rain Check Guarantee - I you do not see a manatee while on our tour, you will receive a Rain Check, to come back another day, free of charge.