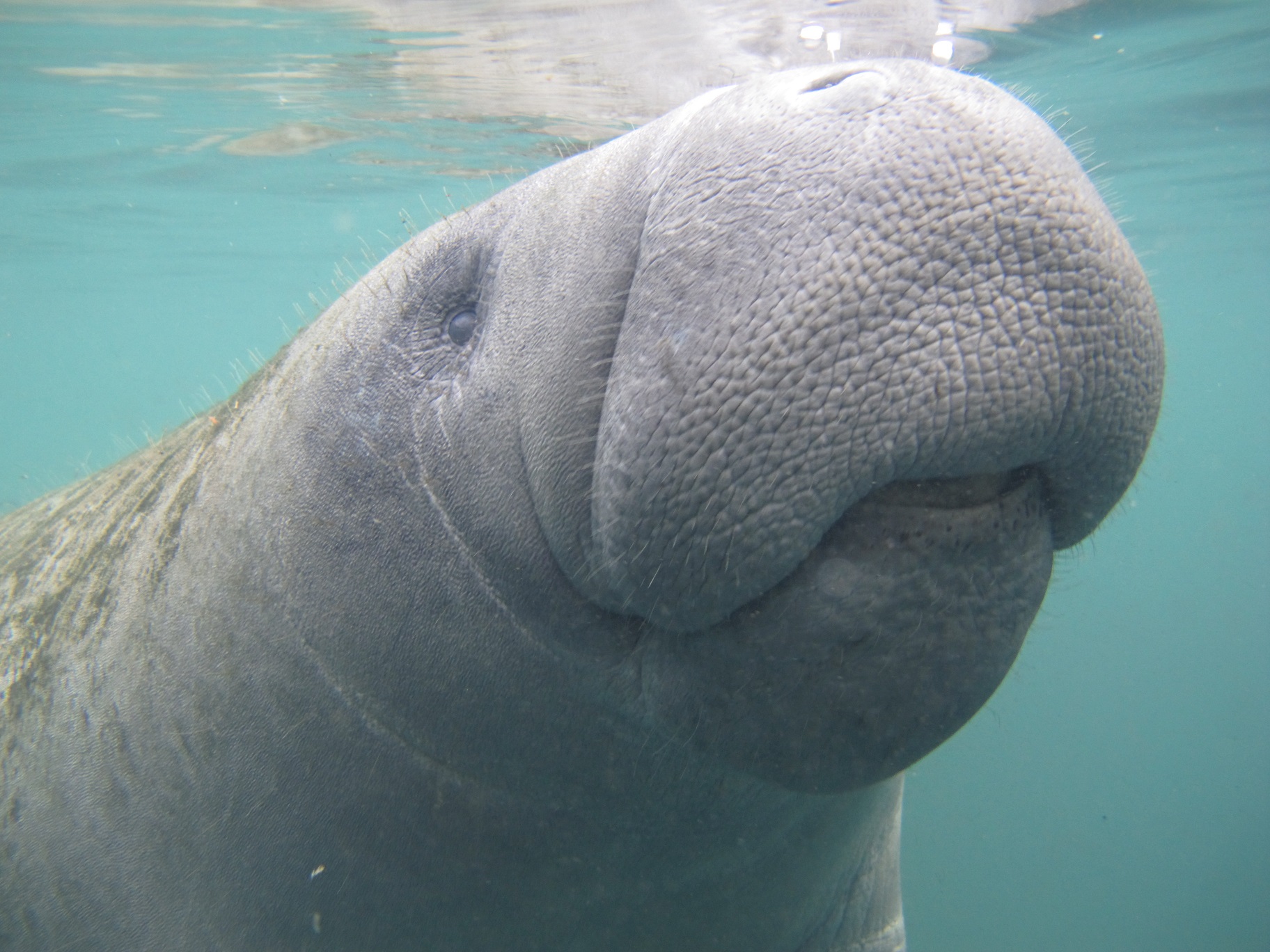 Our VIP Marvelous Manatee Tour 3 hour swim with manatees tour runs every day at 8:00 am and 11:30 am, and winter at 3:00 pm. The cost is $70 pp, including wetsuits, snorkeling gear, Reef Safe Sunscreen & hot or cold drinks.
Our most popular tour, offers a short boat ride to find where the manatees are lazing around, hop in the water and enjoy the best nature has to offer.
Our Manatee Mania Tour, 4 hour snorkel with manatees tour runs every day at 8:00 am or 12:00 pm. The cost is $80 pp, including wetsuits, snorkel gear, hot or cold drinks.
Our newest tour, allows an extra hour to bring out the manatee maniac within. Swim/Snorkel with these "floaty potatoes", from the boat or in the water. Relax and let the manatees enjoy you and your family.
Our Magnificent Manatee Tour, 3 Hour Mini Private snorkel with manatees Tour runs every day at 8:00 am and 11:30 am, and winter at 3:00 pm. The cost is $444.00 per boat, 1-6 passengers, including wetsuits, snorkeling gear, Reef Safe Sunscreen and hot or cold drinks.
A popular tour for those who want time alone with family or friends. We will take you, privately, to swim with and be silly with the Gentle Giants of the sea.
The Homosassa Springs Manatee Tours , also known as "The Florida Manatee Tour" is the best kept secret of Manatee Tours. Citrus County, Florida, is the only county that can boast the privilege to have this wonderful encounter to "Snorkel With Manatees"!

We are located in Homosassa, Florida, about 1 hour from Tampa and 1.45 hours from Orlando. Located next to the Old Sugar Mill Ruins and only a few minutes from the Florida Cracker Riverside Resort. We are the only year round "Homosassa Springs" Manatee / Dolphin Tour Company, and with the largest gift shop in the area.
We offer a unique "VIP" Swim/Snorkel With the Manatees Tour for 3, 4, or 6 hours.
Plus a ton of gifts and souvenirs to claim upon check in, or after your tour.

The Homosassa River offers fewer people and fewer boats than many other Manatee Tours, located on the Crystal River/Kings Bay.

We cater to small groups, only 6 per boat, which this allows a more personal tour.

" The Florida Manatee is the most enduring Animal in the state of Florida", they are also the most loving and even silly marine mammal that exist.
All of our " Florida Manatee Tours" are fun for all ages, 2 and older, and for the whole family.

We recommend this tour all year, less people and boats, means less stressed manatees.

We know you will want to call now, just pick up the phone and we will get your experience started!
We also offer a Rain Check Guarantee - If you do not see a manatee while on our tour, you will receive a Rain Check to come back another day for half the price.
Our Manatee Madness Private Tour 6 Hour Tour runs daily at 8:00 or 9:00 am, including wetsuits, snorkeling gear, towels, Reef Safe Sunscreen, drinks and snacks, and lunch, by boat at one of our waterfront local restaurants.
Create you tour, the way you want. We are at your disposal for the next 6 hours. We suggest :
Snorkel with the manatees, in the morning, break for lunch, board the boat on a full belly, go back to see the manatees or we can search for the eternally happy faced dolphins of the Gulf of Mexico.
The cost is $596.00 for up to 4 passengers, each additional passenger is $149.00, up to 6 passengers.
Join us all day where you can hang out with the Hippies of the Sea, watch their curious minds at work, while they play and watch us too.
"This was more fun than Disney World!" $70.00 pp
"Momma needs this tour!" $80.00 pp
"I can't wait to come back and bring more family!" $444.00 per boat
"Thank you for making my dream come true!" $596.00 1-4 passengers